How do apps make money in 2019?
The App Market overview
The global app economy is large and it's going to keep growing. As of 2018, there were more than 2 million applications in Apple' App Store and 2.4 million in Google' Play Market, making it the most popular distribution platform in the world. It is projected that revenues generated from mobile apps, including advertisements and in-app purchases, will double by 2020.
Taking into account that tablet and mobile device usage has reached unprecedented records, it is the right time for your business to have the own app if you don't have one. But what app type should you choose? How can you get revenue from free apps? Let's have a closer look at mobile app market.
Paid vs Free Apps
According to TechCrunch, more that 90% of apps on the market now are free.
In fact, statistics show that the amount of paid app downloads decreased greatly in 2016 compared to previous years. Gartner Research group revealed a report, according to which customers will spend 24% more on in-app purchases than on paid-for apps, indicating that people are likely to generate transactions within the app and pay for in-app features, once they are convinced that the app can bring real value.
Overall, the survey conducted in China, the U.S. and the U.K. showed that spending for 3 month period on paid apps amounted $7.40 and $9.20 to buy in-app features. What is more, Gartner said that app users between 18 and 34 years enjoyed more flexible engagement with in-app transactions, that older customers, preferring to pay for an application to own and use.
The survey results suggest that app developers should provide users with a range of options for in-app transactions and upgrades for extended features.
During the previous year, the most popular free app revenue stream was advertising, but it also was the most annoying (to users). About 20% of surveyed users indicate that they usually click on ads generated by mobile apps, but almost two-thirds said they never click on in-app commercial. Still, 63% of developers choose advertising to monetize their apps, making this model the major revenue-earner in 2016, In-Mobi report.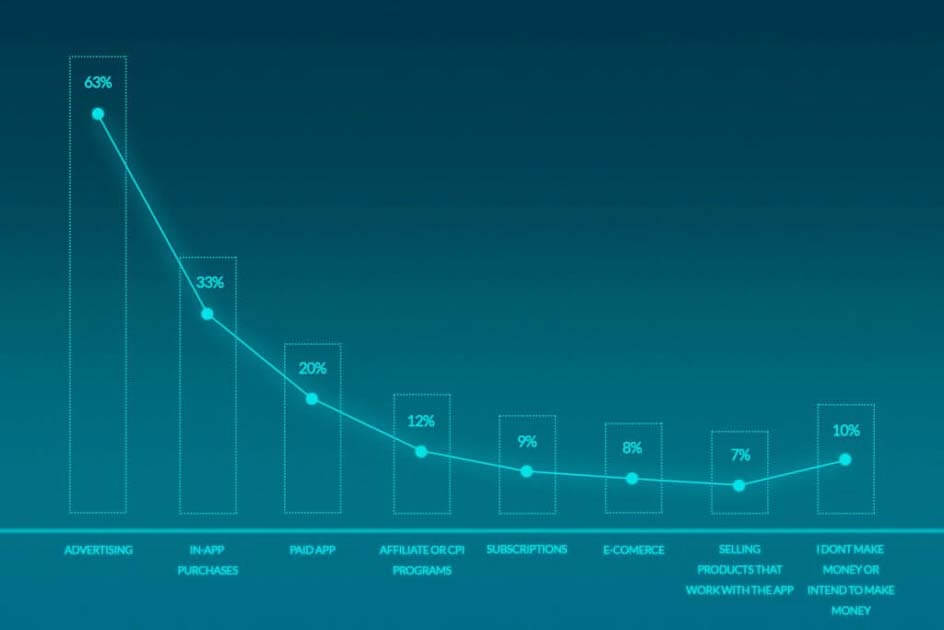 How do free apps make money?
With the study on mobile app development stages in mind, let's analyze the main revenue models for free apps:
1. Advertising
Mobile advertising remains the most profitable app revenue model. 7 out of 10 app providers used it in 2016, 18% plan to use it in the near future. Using ads to monetize app is quite simple, all required is to display commercial inside your mobile apps and get paid from the ad networks.
See also "How free games are designed to make money". This video offers a great illustration about the most successful strategies of app monetization. Let's explore!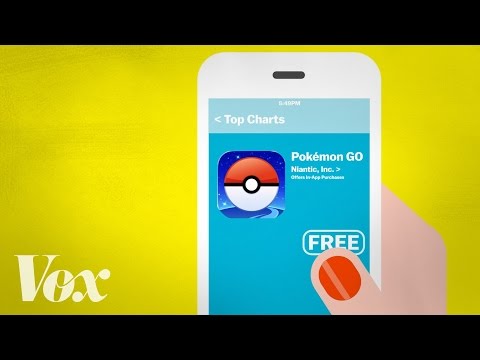 According to Sweetpricing report, 32.5% of the largest mobile providers use in-app ads as the only source of in-app revenue. You can get paid every time the ad is displayed (per impression), per click on an ad, or when a user installs the advertised app (per install).
Native, banner and interstitial ads are the top 3 formats used by developers for their inventory monetizing.
Interstitial adsare the full-screen pop-ups, displayed at specific time frames.The add can be closed by opening the promoted page or by a close button in the ad corner. This method to boost app revenue is efficient at natural transition breaks mostly for messaging and content apps, news, and for games, before or after an expected content or functionality (eg. game levels) and can be used to maximize impressions.
Banners or display adsusually appeared in different sizes and stretch at the top or bottom part of the screen. They are small and less obtrusive so users can freely interact with the app. Besides, app developers can target tailored users based on demographics and past behaviors. Still, they have low engagement rates of about 0.1% CTR.
A study by Medialets illustrated top performing banners by position and size, indicating that the lower half of the app is the most effective at driving the conversation. Apps like Tinder and Uber are a great example of this notion.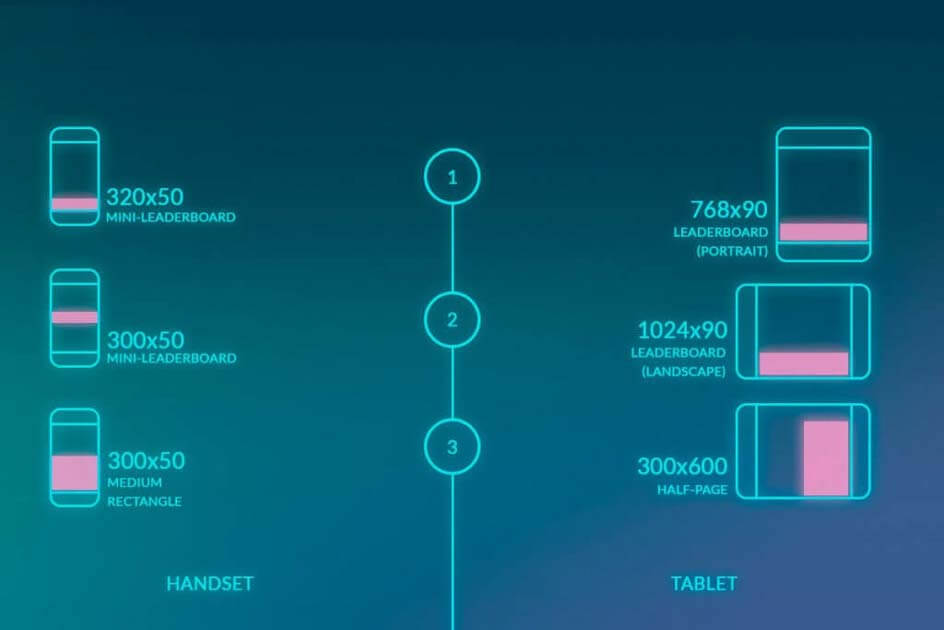 In-app video adsare displayed automatically, or used as a 'rewarded video' – opened on-demand in exchange for any in-app reward. For instance, the user can get app currency, extra lives in games or additional features for watching video add. This is a win-win strategy both for app providers and customers.
Native adsare created to fit seamlessly the main concept design and appear within the app as its natural element. Mostly, it manifests as sponsored content or video, aimed to promote a product. As native advertising are considered by users to be as less irritating and intrusive, they get more popular revenue stream for app providers.
Using a mix of ad formats and placement can generate maximum revenue to developers and engagement to users.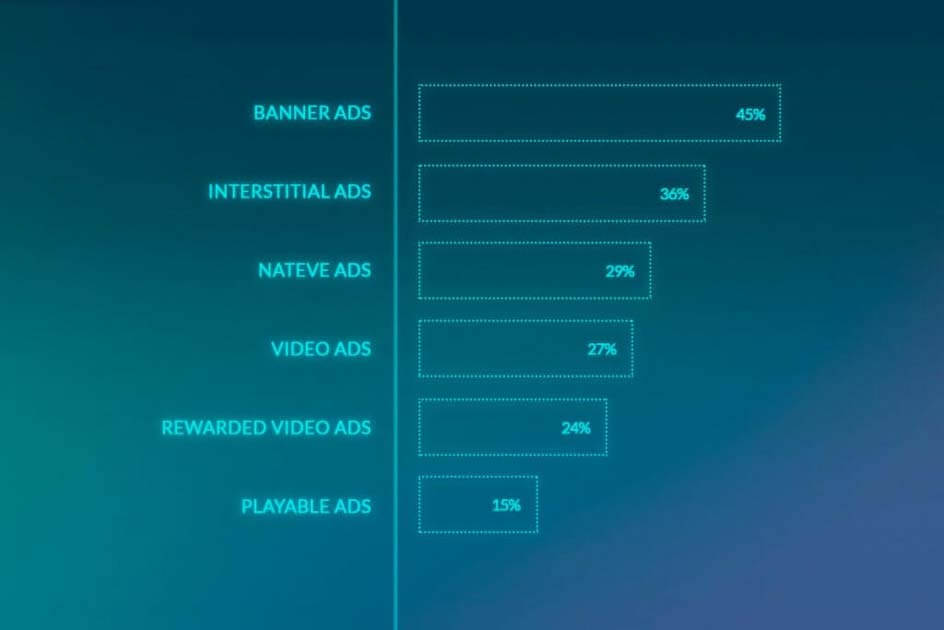 Downside: Ad revenues can be pretty low for apps with a small audience. Despite advertisement is wide used by developers, it remains the most hated by users, so it should become a part of the interaction and act as its natural part.
Incentivized Ads (reward users for app engagement)
84% of app users prefer rewards apps over applications containing ads. There is a number of tools that allow rewarding consumers on completion of a certain in-app action, ad interaction, through filling out a survey. The strategy allows creating better engagement and building positive brand attitude. App developers get revenue from promoting their in-app currency by sponsors and gain happy and loyal users.
84% of users prefer rewards apps over apps containing ads
Downside: Rewards should look like a part of app interaction and it is hard to keep users involved in the app.
2. Email Marketing
Despite the fact that Email Marketing is comparatively old technique, it can be quite powerful when it comes to monetizing apps. This strategy works best when you kindly ask user email during sign-in. And, as a result, get a possibility to consequently reach them with email notifications.
At the meantime, mobile applications offer a new opportunity to collect email addresses. This makes email marketing one of the most effective strategies on the web, which also has its pros and cons.
So here are few ways to collect email address from within a mobile app:
The first and the foremost way is to simply ask users for their email address with a pop-up box. In return for free features, in-app currency, or whatever you want to offer, it becomes profitable for both sides.
Another way of getting users emails goes through Facebook SDK. Having FB login enabled inside the app lets you use it for collecting email addresses. Don't forget to notify your users that they may get emails, in case of logging in with FB account.
Or… use some third-party tools to make email collection easier. There are some 3rd party SDK's that can be integrated into your mobile app (by adding just a few lines of code to your app). Simple and effective, isn't it?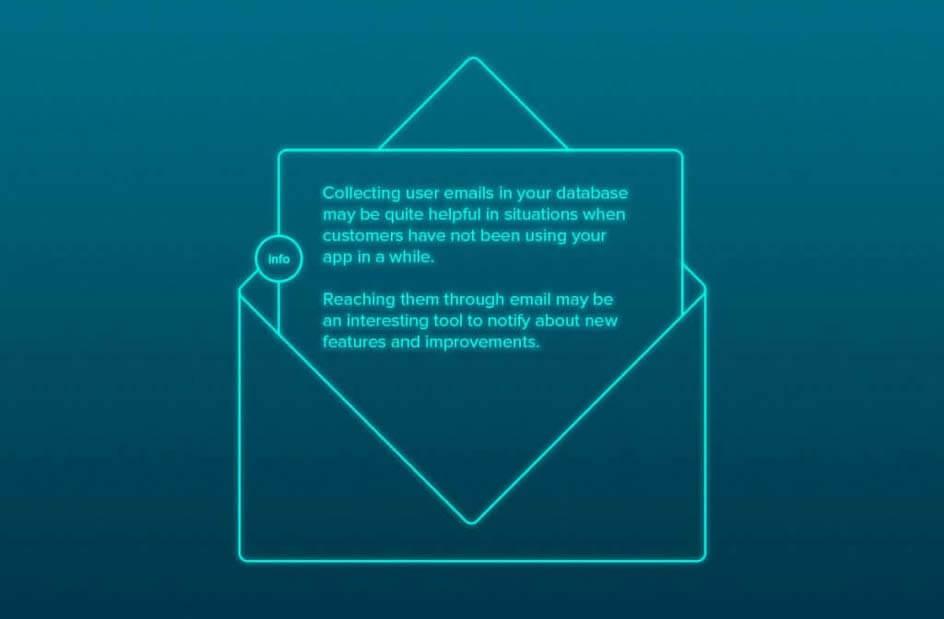 Collecting user emails in your database may be quite helpful in situations when customers have not been using your app for a while. Reaching them through email may be an interesting tool to notify about new features and improvements.
Downside: Email marketing is widely underused on the Internet. Meanwhile, most of the giants are taking advantage, it is not efficient for most of the smaller players.
3. Sponsorship
Sponsorship placement within the application can be a powerful app monetization model if provider builds the right niche app for tailored users and launch it on behalf of another company. The main challenge is to find a funder with similar or the same target audience and white label an app or adapt its design to match sponsor's brand.
The main types of sponsorship deals:
Agreed revenue split generated by the app.
Monthly sponsorship fee paid by funder for app maintenance or use.
The strategy is also lucrative for developers to generate and expand user audience and promote an app, as most sponsors already have good website traffic and loyal customers.
A great example is Home Depot sponsorship on the Weather Channel app. The animated app background behind the temperature measurement is the advertisement placed by the sponsor, well-aligned with Home Depot's target users – homeowners interested in weatherproofing their houses.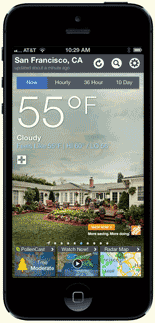 Downside: It is difficult to find sponsor company and present app for a specific area.
4. Subscriptions Fees
For free apps with restricted content or features available for a limited time, the user can pay a subscription fee to get a full access and unlock it. This revenue type is often used for cloud services, video and audio streaming, online newspapers or magazines. The developer can provide users with free trial period and charge the subscription fee for an access without restrictions.
According to Sweet Pricing report, only 5% of most successful apps are using subscriptions, making it one of the least used monetization models among developers.
Only 5% of successful developers are using subscriptions to monetize their mobile apps.
Google and Apple provide an ability to handle the subscription transactions through their platforms, making easier for developers to implement it. Apple takes 30% for the first year of any subscription, and then 15% after one year of paid service. Google introduces better terms, taking 15% of subscription revenue even during the first year.
The revenue model was successfully used by Umano app for voiced articles. Umano provides users with a limited number podcasts for a fixed amount of time until they subscribe for a premium account.
The leading paper apps New York Times and Wall Street Journal have acquired 1 million of online subscribers each.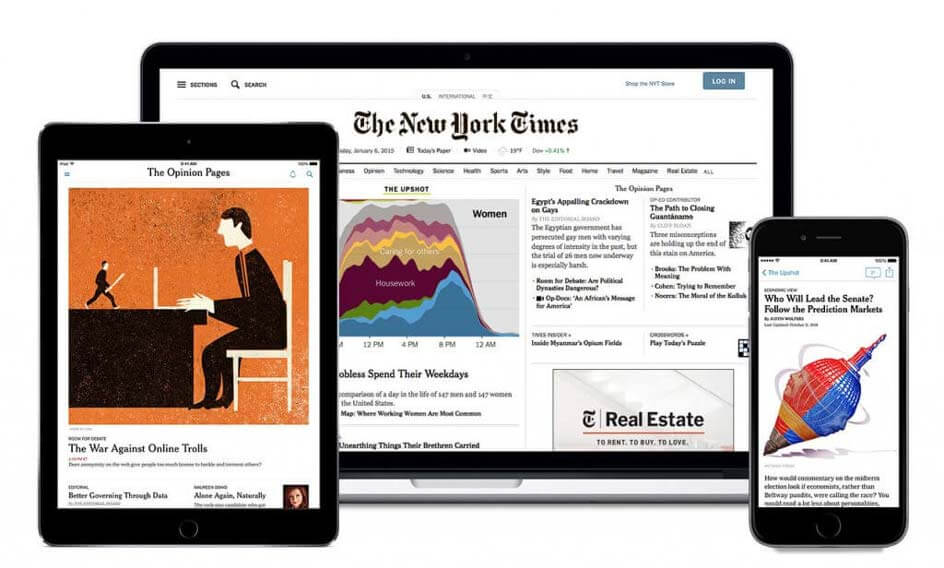 Downside: App developers should constantly provide valuable content and services to guarantee subscription, besides it is hard to decide the best time and location to place paywalls. The model is also suited for tailored verticals as entertainment app, news, and lifestyle.
5. In-app purchases
In-app purchases provide an ability to sell a variety of virtual items directly from your app — including extra bonuses, premium content, game currency, and goods or unlock game levels.
The strategy falls into categories:
Consumable – a product that can be purchased and used once within the app. Example: virtual currencies.
Non-consumable – a featuring product bought for permanent usage, that does not expire. Example: new game levels or maps.
Subscriptions are used to unlock features and content for a limited period. Example: annual news subscription.
50% of the leading apps use in-app purchases a stream of earnings, and the model is expected to dominate in the next years. It is commonly preferred among game developers, mostly due to digital money, used by users to purchase in-app content or to unlock new levels. That is more, half of the games provide more than one virtual currency- 'coins', 'gems' or 'gold'.
Used wisely, in-app purchases can generate a good revenue – the mobile game developer Supercell boasted to earn $1 million a day on purchases in their Clash of Clans game. Pokemon Go users spend about $1.5 million on in-app purchases daily.
Pokemon Go users spend $1.5 million a day on in-app purchases.
Downside: The app should hold leading market positions and always keep users hooked. The model also provides more technical challenges as it requires payment system, such as PayPal, and presupposes additional fee for the payment-holding company.
6. Freemium Upsell
Freemium apps are provided free of charge but contain paid or premium features, accessed through in-app purchases. The users download free app version and if the content is worth paying, get a full access to functionality by committing a purchase. It is a great way to gain new users at a faster rate, as premium features are optional.
Technically, it is the easiest revenue model for app publishers, as it requires the creation of two apps versions – light and full one.
15% of apps are still using paid sister apps, that contain exclusive functionality which can be bought in addition to all functionality and content of its free version. This strategy is popular among training and educational apps. LinguaLeo utilizes this model – the application has free and paid English lessons, providing premium subscription mode.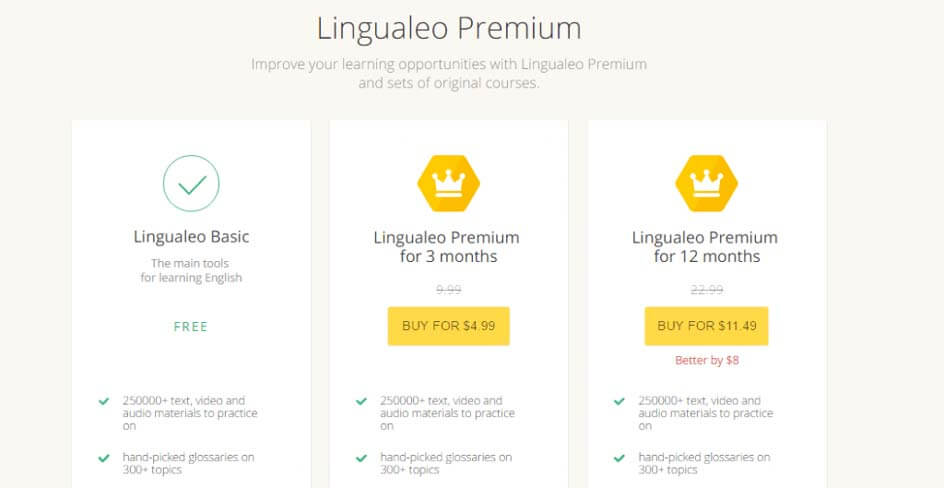 Downside: Users can decide to use only a free version, it is hard to convince to buy additional features. App publishers should provide users with the right amount of free features, just to create proper app experience.
Downside: If your app has a comparatively short average session length, this might be not the most efficient app monetization strategy (contrary to in-app purchases and ads). Meanwhile, this revenue type is good for those, who didn't succeed with in-app purchases but have high app session length and bring real value to users.
7. Physical purchases and Merchandise
E-commerce businesses use free apps for selling physical goods or branded merchandise: toys, t-shirts, cell phone cases, etc. via email marketing or specially developed applications.
One of the first and most successful apps to boost revenue from branded merchandise was Angry Birds game. Rovio Company sells 1 million branded t-shirts, backpacks, and stickers every month. That is more, they managed to get 1 million per month revenue only on plush toys.
Rovio company sells 1 million plush toys from Angry Birds game every month.
Amazon provides an ability to get revenue from merchandise by creating a Merch self-service program that allows app publishers to sell custom branded t-shirts from within their apps.
All you need is to create and upload own artwork and promote it using the Amazon tools. Branded t-shirts will be produced, sold by Amazon and you get your revenue share. App developers don't handle any payments and fulfillment, making the whole process really easy and beneficial.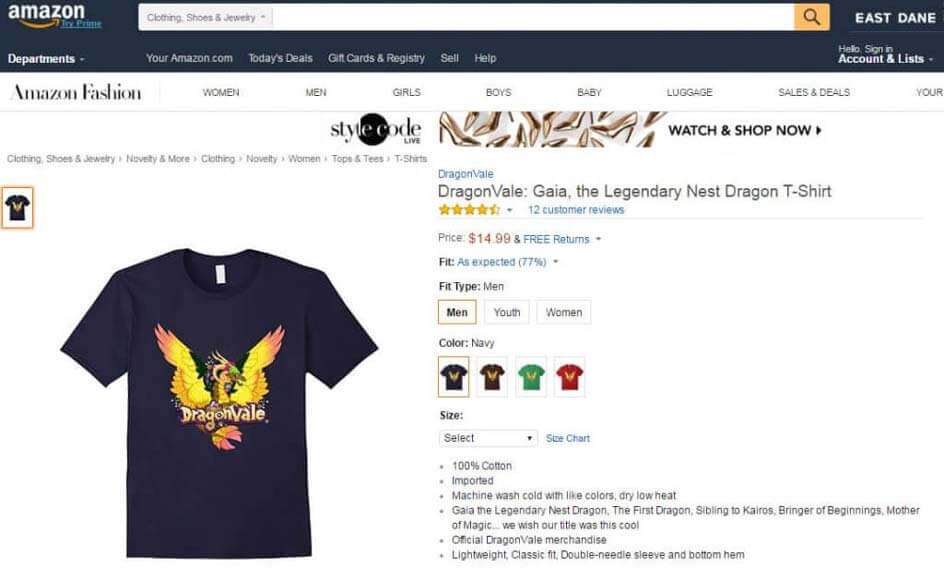 DragonVale game developers used Merch by Amazon service to create and sell.
Downside: You need to generate a large audience of users and sell something people want to buy.
8. Collecting and Selling Data
Well, this is probably not the most widespread and ethical way of app monetization (and that's great), but collecting and selling personal data still remains one of the effective approaches to turn a profit.
Some companies that offer free mobile apps sell their databases to third parties. The information may contain user's email address, social media accounts, and personal preferences.
Apps generate a lot of data in terms of user behavior, which is highly desired by those who are in different research fields.
So app developers can sell this kind of information to the researchers and make quite a good return of money. Actually, there are two ways to earn on selling data: track what users do and sell data to outside companies or use the raw data itself for your own purposes.
From a marketing point of view, companies want to pay to display ads to the most relevant audience possible; while on the flip side, far not each service can gather the same data as Facebook or Google does. Nevertheless, if your app is able to gather relevant data, then you may have a way to profit from it.
Downside: the worst of the apps can even infiltrate the call history and contact lists or access users' social media accounts. The good thing is that there are anti-surveillance tools that can help you protect yourself from spying (e.g. Text Secure, Red Phone, Onion Browser, Orbot, etc.).
9. Affiliate Income and Referral Marketing (from CPA to CPI)
Developers can promote and sell affiliates' services or products for the revenue split based on a number of installs and clicks. You can use pop-ups or banners to promote someone else's apps or use 'in-app store' to advertise product or services.
Cost Per Action, cost per acquisition (CPA) networks
There is also a number of affiliate networks, that will help you to find the affiliate that suits your own mobile application. The networks are generally based on cost-per-action (CPA model) or sharing revenue generated for advertisers.
There are several ways to use this app monetization model.
Promoting other apps
Advertising products through pop-ups or banners
Promoting products through an 'in-app store'
Cost-per-mille or cost-per-impressions (CPM) – is a payment model based on a number of impressions. The advertiser is charged each 1,000 time the affiliate ad is displayed (mille is a Latin translation for thousand). iOS ads are generally more Affiliate expensive than ads displayed on Android devices and can differ up to 30% over the platform.
The average mobile revenue per thousand impressions (RPMs):
Banners: iOS ($1.20 – $3.00) vs Android ($1.15 – $2.50)
Interstitials: iOS ($4.00 – $6.00) vs Android ($3.00 – $4.00)
The highest end of CPM rates belongs to AdMob network operated by Google. As of July 2016, the CPM rate has reached $6 for Android and $10 for iOS per 1,000 mobile ad impressions.
Cost-per-click (CPC) – is a revenue model based on the number of clicks on an ad displayed. Such popular ad networks like Adfonic and Google's AdMob are commonly PPC, providing both text and display advertisements.
Game developer Pink Pointer used native ads to monetize their free puzzle apps. CTA networks helped developers to achieve a 50% increase in Click-through rates (CTR- the number of ad clicks measurement), resulting in higher revenues.
Cost per view (CPV) – is a type of charging based on the number of video views or ad interactions, such as clicks on banners or call-to-action overlays. Mobile games developer Brighthouse successfully operated Cost per view networks to increase app revenue by 130%. They used video and interstitial ads inside their app White Tiles 4 to create natural breaks in between game sessions.
Rovio used Google AdMob network to increase their Angry Birds downloads among Android users.